The Case of Nutria (Myocastor coypus) in Louisiana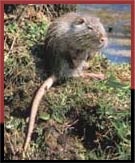 Nutria (Myocastor coypus)
Louisiana's marshes are under siege from a 12-pound rodent with a huge appetite. The Mississippi River delta's marshes are the largest wetland complex in the United States and are literally being eaten away by an animal called nutria.
At first glance, nutria seem innocuous. These semi-aquatic rodents have glistening fur and are a little smaller than a beaver. Sometimes they may even be mistaken for beaver as the glide along with their heads barely above the water's surface. They are agile swimmers. Yet despite all appearances, nutria are a big problem around the world and especially in Louisiana.
Native to coastal and lake marshes of Argentina, they seem to live in harmony with their environment. Their population levels fluctuate with periods of drought and flood. However, they are adapted to quickly repopulate their habitats following a natural disaster. What happens, though, when nutria populate an area that does not have frequent cycles of flood and drought? In many cases, nutria can cause significant environmental and economic problems.
In Louisiana, nutria inhabit the freshwater and partly salty, brackish, marshes along the Mississippi River delta. Like all wetlands, these marshes are incredibly productive and critical to the life cycle of innumerable species.
15 million water birds, 5 million wintering waterfowl, more than a million alligators, and 11 threatened and endangered species; Nearly every commercially important fishery in the Gulf of Mexico is linked to this wetland complex including shrimp and crabs.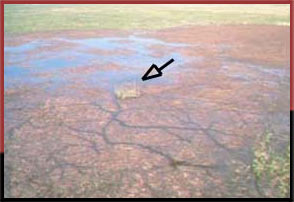 This aerial photograph shows an "eat out." The brown areas of the marsh have been damaged by nutria. In the center, as indicated by the arrow, is an area that has been fenced off to exclude the nutria.
Nutria are a significant threat to this ecosystem because they reproduce very quickly and when they feed in an area they may eat the vegetation to the roots exposing the fragile wetland soils, and they are born as eating machines, virtually miniature versions of an adult, ready to feed within hours of birth. As tides ebb and wane, the flowing water erodes the soils where the nutria have eaten away the grasses, and the soils are pulled into the Gulf of Mexico. Once the soils are gone, the plants cannot re-grow.
Captive nutria were first introduced to the marshes of Louisiana in 1937 when 13 escaped from a captive nutria colony owned by L.E. McIlhenny, a renowned conservationist and founder of the Tabasco Company. In 1940 approximately 150 more nutria escaped captivity during a hurricane. McIlhenny was reportedly sad at his loss because he believed that the nutria would perish as prey to the alligators, but the nutria proved him wrong.
What McIlhenny did not take into account was the amazing reproductive abilities of the nutria. They are prolific animals. Typically, nutria begin to reproduce when they are between four to six months old, and they have more than two litters each year. With typical nutria litters exceeding four young, each female nutria may have an average of more than 10 young annually.
By 1956, nutria harvest reached 419,000, this in less than 20 years since nutria were first introduced to Louisiana, and the nutria populations were continuing to grow. Farmers were complaining about nutria damage to rice and sugarcane fields, and muskrat trappers worried that nutria were responsible for declining muskrat populations.
In the early 1960s Louisiana Department of Wildlife and Fisheries needed to find a solution to the crop and habitat problems caused by nutria. Because nutria populations grew faster than the predators could eat the nutria, they felt that encouraging trapping was the best alternative to solving nutria problems. Trappers however, are motivated by the price of fur - the more the fur was worth the more trappers would pursue nutria. The LDWF set out to create a market for nutria.
By 1962 LDWF had established a market when more than a million nutria pelts were sold into the German fur trade. As prices for nutria fur continued to rise through the 1970's, trappers continued to trap nutria, averaging 1.5 million pelts a year and generating an average 8.1 million dollars annually.
From the early 1960s until the early 1980s high fur prices were the driving force behind high harvest levels. Throughout this period, nutria problems were virtually nonexistent. There were very few crop damage reports and the nutria were not significantly harming the wetland habitats.
Everything changed during the 1981-82 trapping season. Prices for nutria fur fell by nearly half from $8.19 to $4.36. By the end of 1993, the market bottomed at only $2.64 for each pelt. Trappers lost their incentive to pursue nutria, and the mid-1980s harvest declined to less than 300,000.
Nutria populations exploded without the trapping pressure. Following 28 years of profitable trapping and few complaints from the agricultural community, 1987 marked renewed concern over nutria damage as farmers again experienced crop losses. Scientists became alarmed by the wetland habitat problems caused by nutria.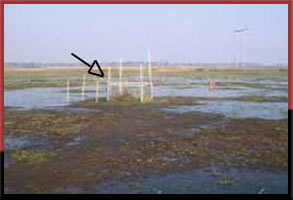 A closer look at the fenced area shows the plants are much taller and healthier inside, away from the nutria.
In 1993 scientists began to survey the damage that nutria were causing to Louisiana wetlands. By flying over the wetlands, the scientists could measure the land area (acreage) of nutria damage. By 1998 scientists estimated the damaged wetlands exceeded 100,000 acres in Louisiana. More alarming is that this estimate is probably only a fraction of the actual area impacted by nutria because only the most affected areas are detected during the surveys.
Louisiana's marshes cover more than 2.5 million acres, an area larger than Yellowstone National Park. Historically, trappers and their families disperse into the marsh for months at a time in search of nutria, and there may be thousands of trappers covering the expansive marsh complex when fur prices are high. When fur prices are low, trappers cannot make enough money to justify the difficulties of trapping the extensive Louisiana marshlands.
Biologist Greg Linscombe of the LDWF says that when nutria harvest exceeded one million animals per year, habitat and crop damage were eliminated. However, trappers will not seek nutria unless they can make a profit.
Low fur prices necessitate an alternative market. The LDWF hopes that nutria will be valued for their meat as well as fur. As the market for nutria meat grows trappers will again seek nutria, and as harvest increases wildlife biologists expect that habitat and crop damage will decrease.
In 1986 the Louisiana Legislature created the Louisiana Fur and Alligator Advisory Council, and this group continues to work on creating and enhancing international markets for Louisiana nutria fur and meat. By enhancing the markets, they hope that they can increase the trappers' profits.
The Advisory Council has spent more than 800,000 dollars using funds from trappers' licenses and other sources to work on the market enhancement activities. Harvest rates are now the highest since 1989 with the annual harvest in excess of 350,000 nutria. But this still falls short of the million animals that must be harvested to eliminate habitat and crop damage.
Trapping nutria is vital to protecting Louisiana wetlands. It is the only protection for a river of life that flows from the Mississippi delta to the Gulf of Mexico.